Most of these companies offer a stainable fiberglass door.  ThermaTru's  ClassicCraft is their top of the line door.  They have doors that can be finished to look like real wood. Oak, mahogany, rustic styles are just a few that they offer.  The rustic doors even have knots and distressing built in to give them a very realistic appearance.  When you are standing there looking at a prefinished door you will be hard pressed to know that it is fiberglass.
The look is amazing!  Here is a picture of a top of the line Jeld Wen door that I installed last year: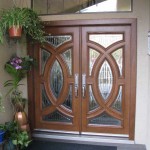 It is a prefinished fiberglass pair of doors with genuine mahogany jambs and trim factory stained to match….Again, you would be hard pressed to tell the difference between jamb and door materials. These top of the line doors can get very expensive. ThermaTru offers a more moderately priced stainable door in their FiberClassic line.  They have an embossed oak style grain that stains up nicely but they are not as finely detailed  or as realistic as the ClassicCraft.  They are also not as expensive!!
A word of caution about staining fiberglass doors:  Because they are fiberglass and not porous they do not absorb stain the same way that a wood door does.  When finishing a wood door you apply stain and let it soak in for a bit and then wipe off the excess for a nice fairly even color.  Since fiberglass doors do not absorb stains, if you wipe off the excess you will wipe off most of the color.  You have to leave some of the stain in place on the door to get the depth of color that you are seeking.
It is much like applying a faux finish.  You wipe it on smoothly, avoiding lap joints and leave the stain to dry on the door.  After it is dry you would apply a minimum of two clear top coats to protect the door and stain surface.  The more coats of finish that you apply the better deep appearance you will achieve.  If you are not a patient person familiar with this type of work you would probably be better off hiring a professional finisher to do the staining for you so that you will get a quality job that you will enjoy over the years.
There are times that I will recommend a quality wood door.  If the door has to match existing wood finishes, trim or sidelites and has plenty of weather protection I would say sure, choose a wood door.  Oftentimes factory made hardwood doors are made without the thin veneers that I was describing earlier.  If they are well made and finished properly they should give years of good service.  A wood door will have more natural color variations then a fiberglass door.  This is a feature that can push the decision in either direction depending on the overall architectural look that you are trying to achieve.
As I said earlier…I am an old wood guy (been doing this kind of work for almost forty years!) but you really can't beat these fiberglass doors for holding up.  The great warranties, energy efficiency, styles available and comparable costs help many people make the decision to buy fiberglass for the exterior doors of their homes and offices.