As far a security goes I believe that the durable fiberglass surfaces of these doors combined with solid wood blocks in the lock installation area will make these doors just as secure as a wood panel or solid core door.  I am looking for testing to back up this belief up or prove me wrong…Have not found it yet but I will let you know results as soon as I find them.
One of the most important features of fiberglass doors is their warranty.  Depending on the manufacturers these doors are guaranteed for at least twenty years.  Some carry a lifetime warranty.  There are limitations of course but consider that most typical wood doors are warranted for just one year.  Less if the rep comes out and sees that you have excessive sun or rain and an overhang that doesn't match their formula.  A typical four to six foot overhang is not enough to be considered sufficient for door and therefore warranty protection.  I have installed fiberglass french doors on the back of two story houses with direct sun and rain contact and no overhang.  After six years I went back to do some other door work for the folks and checked out my french doors….They looked as good as new!!  In contrast  here is a picture of a wood french door  that I replaced with fiberglass doors recently.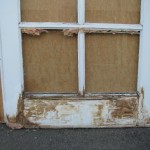 The owner said that the doors had only been in place for six or seven years….Just check out the damage:
One limitation on fiberglass door warranties that should be noted:  While the doors are warranted for twenty years or more, the glass inserts are usually only guaranteed for ten years.  It varies from different manufacturers from ten up to lifetime but it is worth noting.  Still a vast improvement over wood door guarantees.
All fiberglass doors can be painted just like wood doors.  According to the manufacturers, ThermaTru and Plastpro and Jeldwen, their smooth paintable lines are ready for top coat…You don't even have to prime them.  They look great painted.
You might be tempted to buy a steel door instead of fiberglass.  They are usually a bit cheaper and just as energy efficient and carry the extended warranty that fiberglass does but they can dent and will rust if the finish is damaged by scratching or chipping.  The steel surface will absorb heat and could be hot to the touch in direct sunlight.  The manufacturing process is stamping rather than moulding.  This means that the corners and raised panel areas will have more of a rolled look and not be as crisp as fiberglass doors.
Part 3 coming soon!