A bifold door unit  consists of two doors hinged together that fold to one side. These two doors usually hang on pivots and  have spring loaded rollers that  slide in a track that is attached across the top of the opening.
Bifold doors are frequently used on wide closet openings because when opened they offer access to the full width of the closet.  Sliding bypass doors, in contrast, only allow access to about half or even less of the closet when slid into the open position.
They are a popular choice for the laundry area closet that many people have in their homes because these spaces are often in hallways. The bifold doors allow people to walk down the hall while the doors are in the open position because they only require 1/2 of the space that a conventional door of the same size would need.  We also use these doors
to cover the coffee/kitchenette areas found in many offices. Generally they have a nicer appearance than accordion doors that are often used in similar situations.  Larger units can be used to divide spaces in homes or offices.
Bifolding doors are sometimes used as passage doors in small rooms where a standard swinging door is not practical because it would interfere with space usage.  I don't care for them so much in these applications because while they are easy to operate from the pop out side, they are a little awkward to close from the pull in side.  There is also not a good way to latch these doors should you require a privacy locking function.
There are many styles of bifold doors to choose from:  They can be simple flat hollow core doors with no designs at all.  Or they can be ordered with most of the same designs as the raised panel hollow core doors that are so popular.  There are a number of  glass designs available for bifold interior doors.  I have seen frosted, etched glass, leaded glass and french window designs.
I recently installed a couple pairs of douglas fir shaker style bifold doors.  They went into an older home and were going to be clear finished to tie in with all of the wood features these folks had in their house.  Here are a couple pictures of the completed installation. They looked really nice!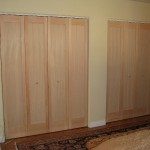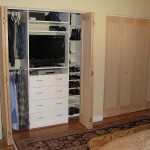 Another popular style is louver bifold doors. They are made of wood, usually pine or fir, and have horizontal louvers either just in the top half with a wood panel below or the louvers can both above and below a narrow board at lock height.  Louver doors provide ventilation for closets and other rooms without windows and add nice design elements to the rooms in which they are installed. This picture show a couple of the styles of louvered bifold doors that are available.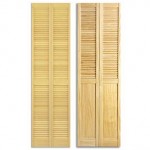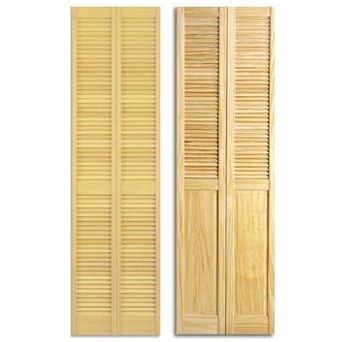 Mirror bifold doors are available.  They can make a small room look larger and are convenient if there is no other dressing mirror in the room. I would caution that they must be measured and ordered carefully because they cannot be trimmed for carpet clearance like the wood models.
Bifold doors are fairly easy to install with a minimum of tools. The instructions are usually easy to follow and the parts are simple to install.  There are pivots that seat in brackets top and bottom on the sides of the openings.  A track is installed across the top to control and align the doors as they open and close.  There is no bottom track or guide on the floor in the center of the opening like we use with sliding bypass doors.  I usually install a wood trim, 3/4″ cove moulding is my favorite, around the outside of the opening to cover the gaps on the side and the track across the top.
Some of typical stock widths are 18″, 20″, 24″, 36″, 48″, 60″, 72″ and 96″.  The smaller openings require only two panels to fill them.  Openings 48″ and over are usually filled with four panels.  Standard heights are 6'8 and 8'0 with 7'0 available from some manufacturers.  Custom sizes are available but can get pricey.
These doors can all be painted.  The ones made of wood are stainable.  Some manufacturers offer prefinished doors-Usually painted white.
For more information please call or email me….Richard The Door Guy !