Fiberglass Exterior Doors
Fiberglass entry doors come in most of the same styles and glass designs that we see in traditional wood doors. They are available with or without glass and have various panel designs. The glass options range from plain clear glass to traditional leaded glass and to very modern angular configurations. Some of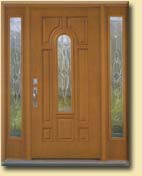 them can be stained and varnished to look like wood and others are meant to be painted.
The three fiberglass exterior door lines that I am most familiar with are Therma-Tru, PlastPro and Jeld-Wen.
Therma-Tru is the big dog in the fiberglass entry door business. They offer three lines of doors: The ClassicCraft is their top of the line product. It features wood grain contours that were captured from real wood doors. When properly stained and varnished it looks very much like real wood. The FiberClassic features a more generic embossed grain pattern that can be stained or painted. The image to the left is a FiberClassic entry system. The SmoothStar line has nice crisp mouldings and corners with a smooth surface that is meant to be painted.

PlastPro is ThermaTru's main competitor. They offer both stainable and paintable doors similar in some ways to Therma-Tru but with fewer, arguably more interesting glass designs.

Jeld-Wen (Formerly IWP) product offers the full range of stainable and paintable doors. They have some very architecturally interesting glass and door designs.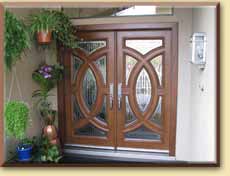 When properly stained they are practically indistinguishable from the real wood doors that they are patterned after. They can be considerably more expensive than the Therma-Tru or PlastPro products. Click on image to right to see larger picture of these beautiful prefinished doors.
I'm an old wood guy...But you can't beat these fiberglass doors for holding up. The major manufacturers of fiberglass front doors that I furnish and install are Therma-Tru and Plastpro. ThermTru offers a lifetime warranty to the original purchaser on their doors and glass inserts. Plastpro offers a 25 year warranty on their doors and a 10 year warranty on their glass inserts. Jeld-Wen has a lifetime warranty on their fiberglass doors. As you can see, they all have a lot of confidence in their products. By way of comparison most of the wood doors in similar styles offer a 1 year warranty and that can be voided if there is not enough overhang and weather protection for the door in question.
Be sure to call or email The Door Guy with your questions about fiberglass entry and exterior doors!