Solve Air & Water Leak Problems
Air and water can get in through your exterior doors quite easily if they are not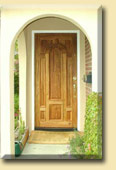 weather sealed correctly. The problem comes up most often with older homes where the weather stripping and thresholds are worn or were not installed correctly in the first place. In order to conserve energy and lower heating and air conditioning bills it is important to fix these common problems.
I have very good luck stopping nagging water and air intrusion by installing the right combination of weather seal products for each opening in question. There are special purpose thresholds, door shoes or sweeps and weatherstripping parts that work very well in heavy weather situations.
I use Columbia Aluminum Products for my weatherstrip needs. They offer an extensive product line that includes many items needed to solve special problems or provide extra protection in extreme situations.
The quality weatherstripping that I use creates a very good seal and as an added bonus, does not stick to latex paints.
Give me a call with your weatherseal questions!