Mortise Locks & Custom Hardware
Mortise locks are very sophisticated lock mechanisms used in both commercial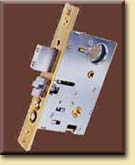 and residential situations. They are complex locks that require specialized equipment and experience to install correctly. I have the correct tools and have installed a couple hundred of them over the years. Click the lock picture to see larger picture of this type of lock .
I install most other types of quality residential and commercial hardware including panic devices, closers, co-ordinators and cylindrical locks. You do not have to buy locks from me...I will be happy to offer installation only.
Feel free to call me with hardware questions!